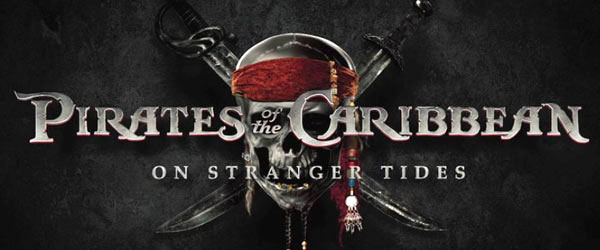 Release Date: May 20, 2011
Produced by: Walt Disney Pictures, Jerry Bruckheimer Films, Moving Picture Company
Director: Rob Marshall
Writers: Ted Elliott, Terry Rossio
Starring: Johnny Depp, Penélope Cruz, Ian McShane
Runtime: 136 min
Viewed format: Regular
Grade Sheet
Characters/char. development:
Plot structure:
Writing style/script:
Acting:
Dialogue/character interaction:
Originality/creativity:
Depth/themes:
Diversity/stereotypes:
Romance:
Visual spectacle/SFX:
OVERALL AWESOMENESS: 5/10
The fourth installment of the Pirates of the Caribbean franchise stars Depp's Jack Sparrow as he searches for the fountain of youth. It is quickly revealed that many other people covet the mystical artifact.
Mediocre film. It was much more cohesive than the last film, but the story lacked the luster that made the first film so popular. The problem with creating spin-offs centered around a popular chaacter like Johnny Depp's Captain Jack Sparrow is forgetting that the reason he's so popular is the fact that he's such a character — but this only really works with Will playing as his straight man. Eccentric characters are not nearly as interesting without something to offer a contrast.
The plot wasn't bad, and I liked the lore it incorporated (the franchise has always done a great job utilizing legends that we're vaguely familiar with but never get to see played out on the big screen) but it wasn't particularly memorable, either. The pacing was fine, and the brevity a blessing after the three hours of nonsense that was At World's End. But somehow, the story just didn't seem as epic. Maybe it was the low(er) budget. Maybe it was the fact this really felt like a spin-off (and not in a good way, either.) Or maybe it was just writing that was just this side of too plain.
The performances were fine, but nobody really stood out. I blame the script. The writing wasn't bad, but it didn't do anything to make the characters shine. And the characters are most definitely the strength of the franchise — they're the reason everyone kept going back to see the films, no matter how terrible they kept getting. I did get vaguely invested in the sideplot romance between two new characters, but Jack and Angelica's romance was pretty boring and predictable.
The Verdict
Rent it if you're bored — or don't. Definitely no need to see this on the big screen. Not a bad movie by any means, but definitely not a good one, either. Hey, at least it made sense!